September 23, 2018
Train station Schwäbisch Hall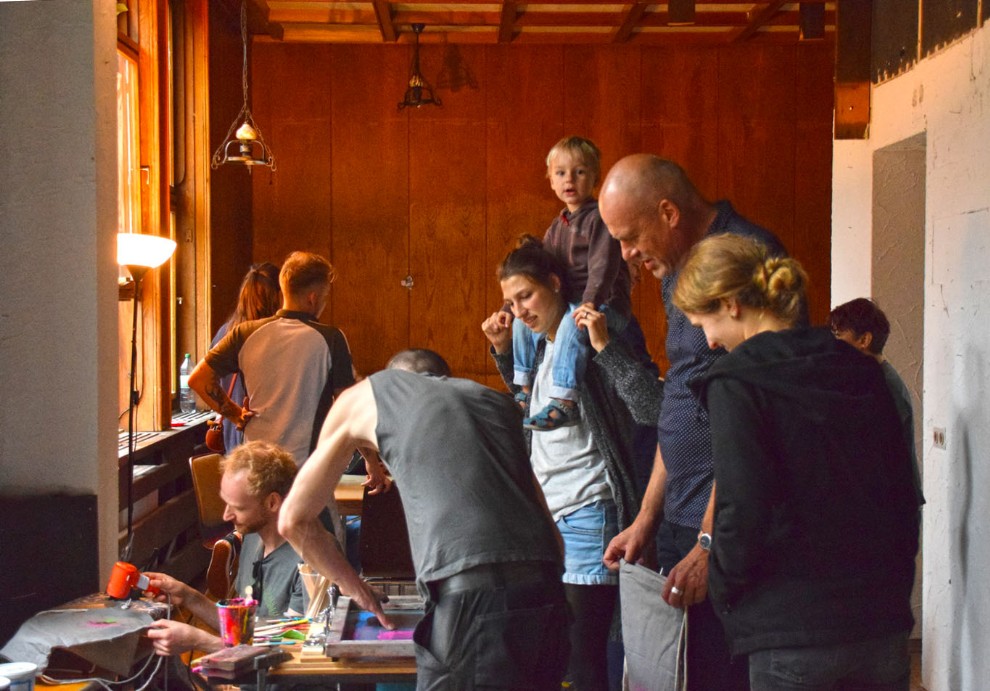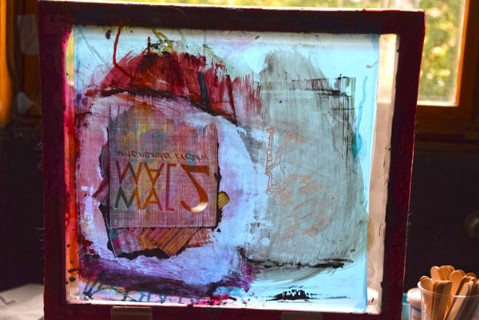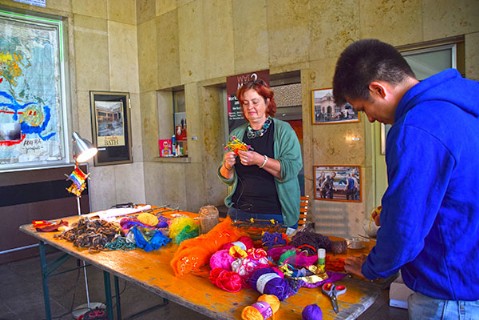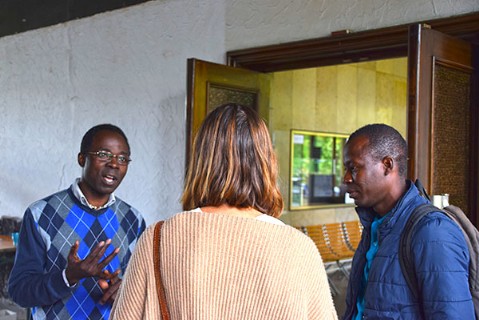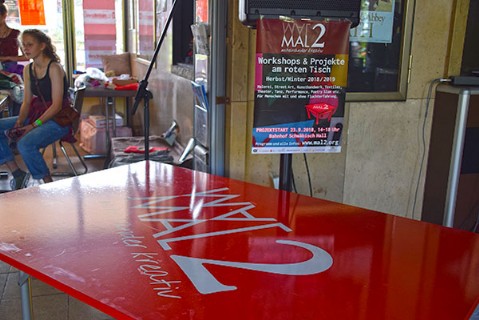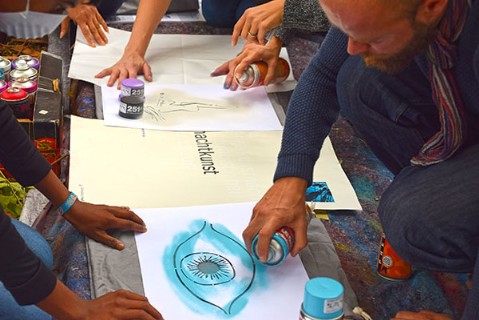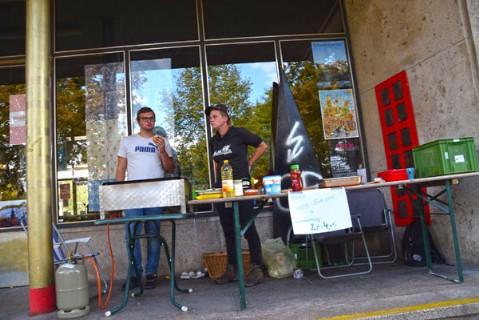 Kick-Off: MAL2 starts!
Finally: The project team is set, the grant funds are gathered, flyers and posters are print - MAL2 can take off!
On a stormy Sunday afternoon four creative workshops took place in the train station Schwäbisch Hall (Big thanks to Hans Graef for hospitality and support!) At first Thomas R. Huber (Büro für Soziokultur), first m
ayor Peter Klink and Jessia Wieland (Club Alpha 60) gave their welcome addresses and presented MAL2, then the workshops for graffiti and stencils (teacher: Duna), silkscreen (teacher: Stefan Maier), sewing and working with fabric (teachers: Cathrin Weiss and Meike Faisey) and crafting with natural materials (teacher: Sabine A. Grimm) opened all over the building. The team from DeLivery and the Club Alpha 60 provided delicious food and drink.
And how was it going? In the beginning only few visitors were in the house, then more and more kept coming. In all workshops it was very busy and people had fun. When the storm had calmed down a little bit, the graffiti workshop even went outside for spraying with the stencils.
September 15 and October 2, 2018
Froschgraben and Dietrich-Bonhoeffer-Platz
The eyes - mirrors of our soul
Jürgen Vogel has set up his mobile photo studio in the city
two times
. The idea: collecting views - addressing passers-by and asking them if they would agree that he takes a photo of them, more precisely, of their eye area. The result were vivid portraits - not individually recognizable, but incredibly forceful. During the photo sessions there were many interesting conversations about the eyes as mirrors of the soul but also, for instance, about the self-image of newcomers in our society: Learning the language, integration - ok, but without denying the own identity!
In this project the idea of "being creative together" is getting transferred into the realm of perception and inner dialogue: eye to eye with the photographed person, the viewer can meditate about issues like origin, descent, culture etc. The series is an unique expression of individuality within diversity, which makes it a kind of visual mission statement for MAL2. Using the photos Jürgen Vogel has meanwhile created a video.
In the same time, Jürgen Vogel's red table was a highly frequented place of communication. Many people became aware of MAL2 and decided to attend a workshop.
October 6, 2018
Kocherquartier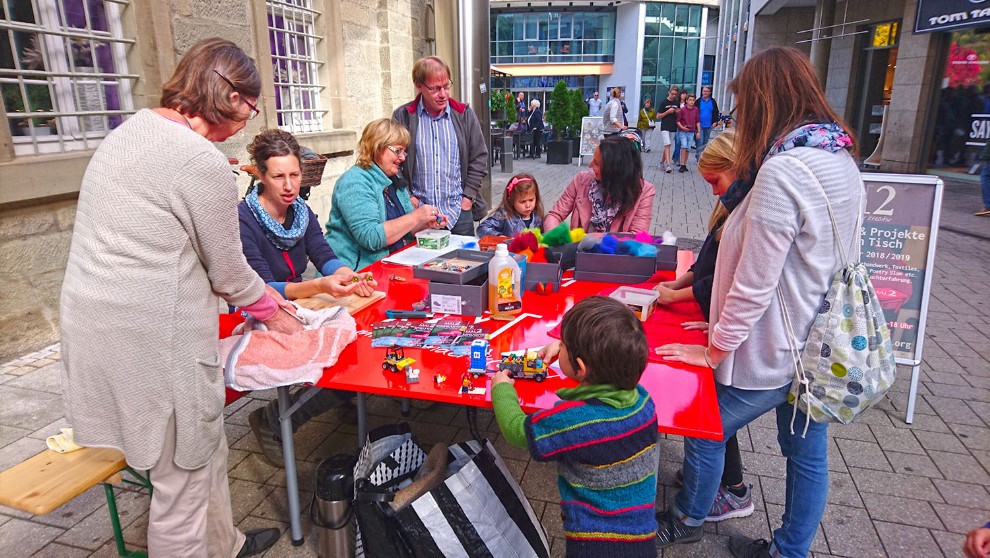 Friendship balls - The felt project
Friendship bracelet - Cultures unite
On a warm late summer afternoon two workshops at the red table took place in the Kocherquartier in front of the Haus der Bildung. That weekend the various events of the
"Haller Herbst"
made plenty of people come into town - best conditions for being creative together!
For the first workshop felt artist Traute Friz brought along wool in every color which enticed passers-by to come by and try out. Equipped with needle and soap, children and adults formed balls, layer by layer in different colors. Cut in two and every half strung on a thread, the balls exposed their beautiful inside and turned out to be awesome jewels. The participants presented them each other as souvenirs of a spontaneous creative friendship.
Also the second workshop had the theme "friendship", although in a more figurative sense: The Esslingen based artist Katharina Schneider invited participants to craft bracelets. They rolled paper beads using sheets from brochures and magazines and strung them on threads. The special idea: The booklets were either about refuge and asylum or about Germany from a touristic perspective. An exiting dialogue of contrasts that spontaneously brought people into reflecting.
October 6-7, 2018
Haus der Bildung and City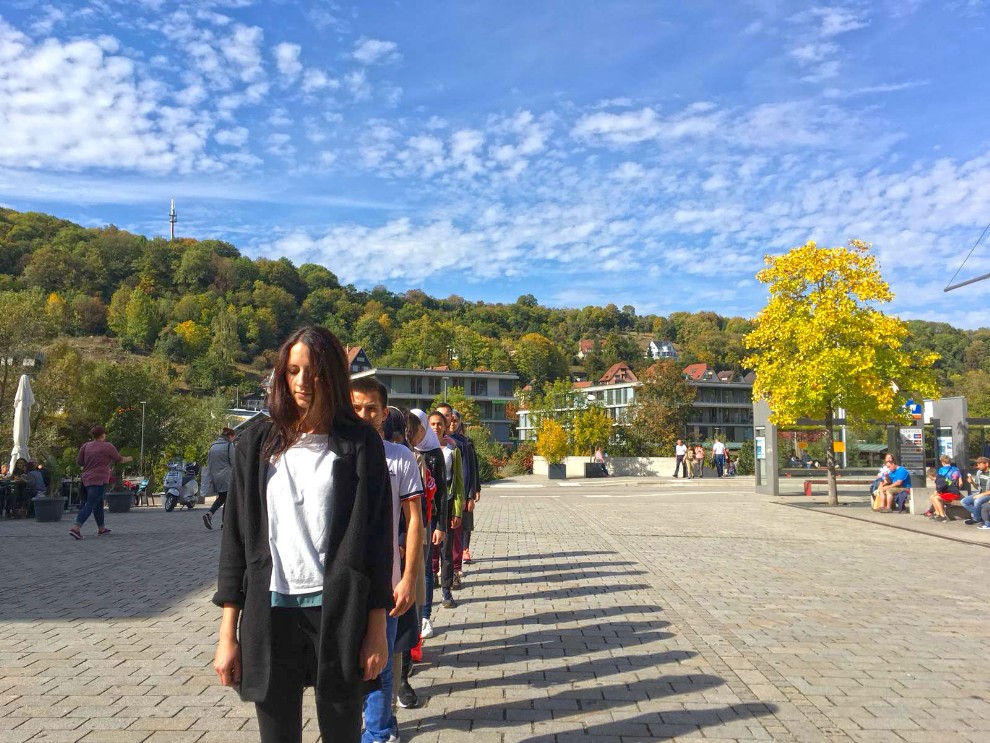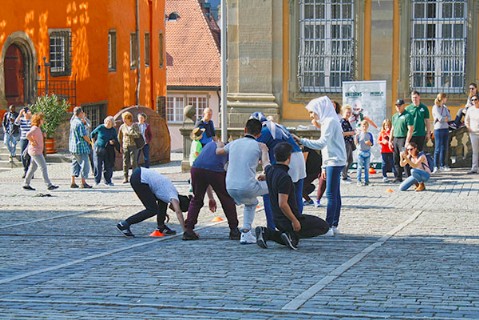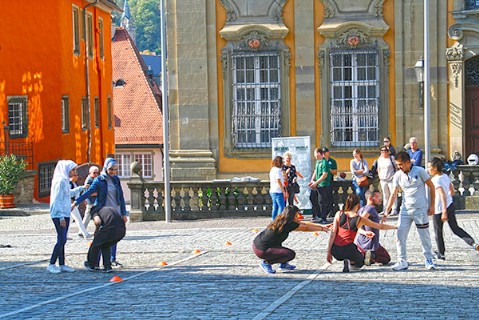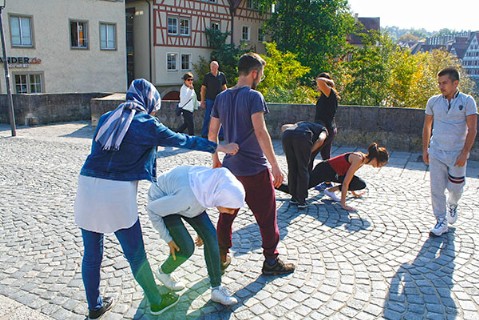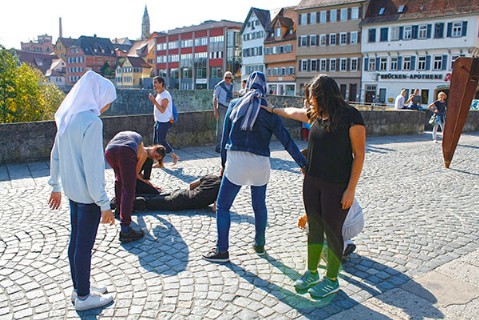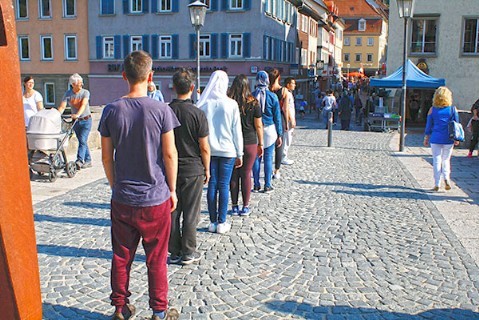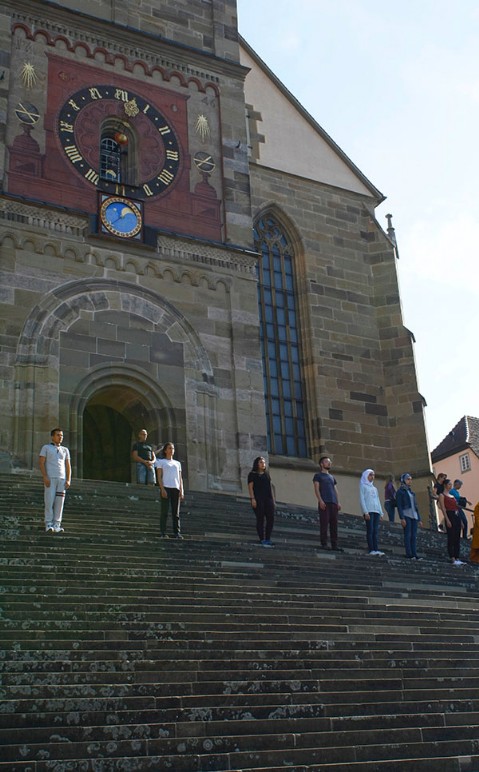 State of Reality - Dance performance project
Lying on the floor in public space in the midst of passers-by or moving in a way that has little to do with "normal" behaviour in public requests courage. Although it was clear from the beginning that this workshop would not all the time take place in the protected environment of the rehearsal room, 12 people with and without experience of refuge had registered for this extraordinary dance performance project.
"State of Reality" was about getting in touch with each other, responding to one another and playfully improvising together. Helena Fernandino and Wagner Moreira combined elements of contact improvisation and contemporary dance and cautiously guided the participants into discovering their individual possibilities of expression. Already on the first day the group set a foot outside and performed on Dietrich-Bonhoeffer-Platz. On Sunday they set off for Marktplatz and Henkersbrücke.
A female participant with experience of refuge was proud and happy: "I never thought that I would have the courage to do this. And afterwards it felt so good!"
October 8-22, 2018
Atelierhaus Hirtenscheuer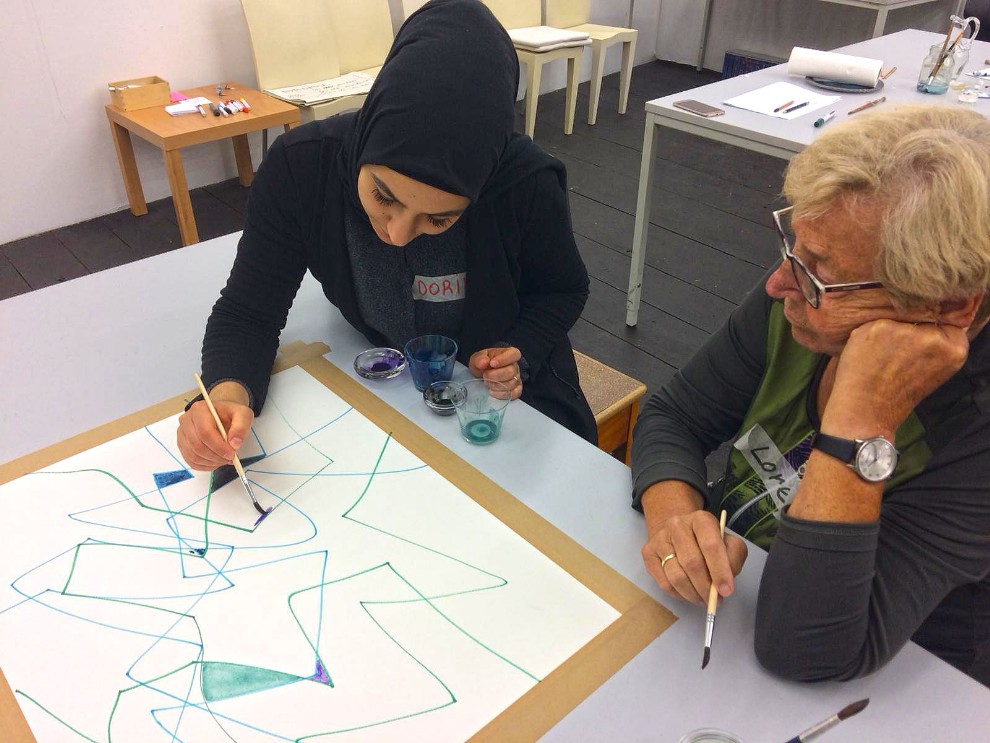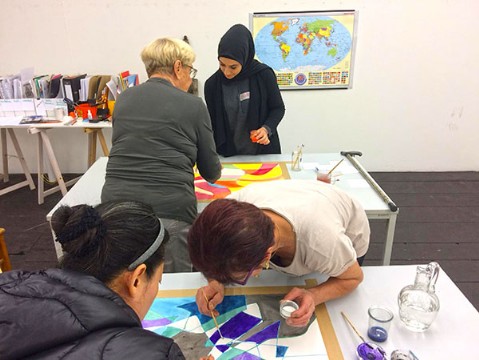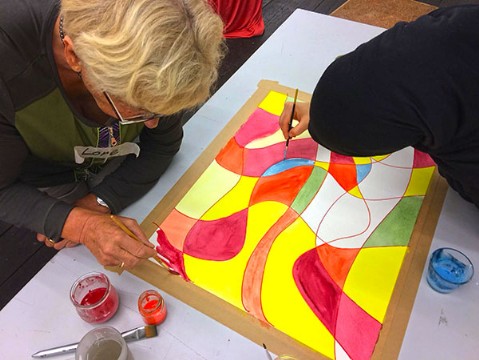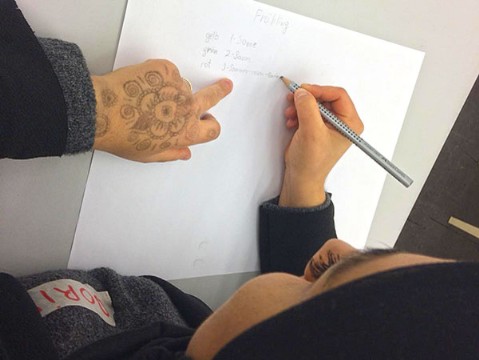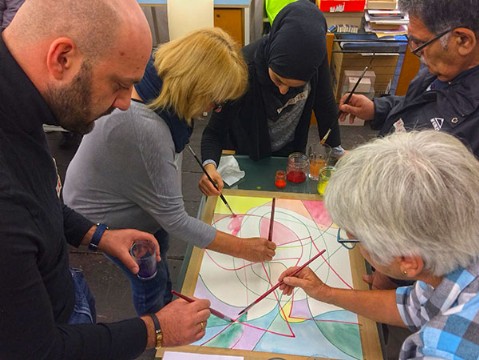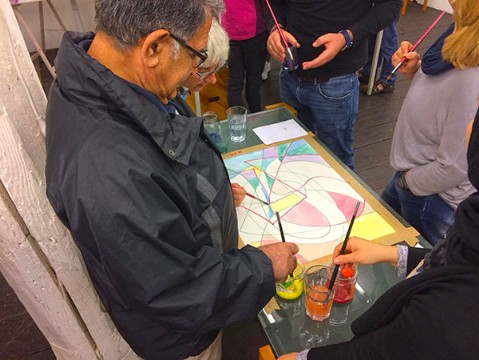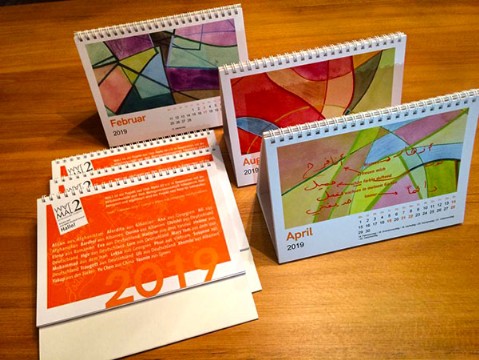 Hallo-Ahlan-Merhaba-Namaste-Bonjour-Hello-Hujambo-Hey-Kóyo-Sawubona-Salaam-Shalom-Marhaban-Slaw-Hallo!
Being creative together and learning german in the same time - that was the goal of this workshop. A big variety of material was available in Gudrun H. Hoelzer's studio, and it took not long until 24 participants (from 9 countries) had come up with their dialogic painting projects.
The workshop builded on Gudrun H. Hoelzer's practise as German teacher, and some of the participants came from her language class. This had some influence on the conversation during the workshop: The process of painting was accompanied by spelling international tongue twisters, collecting verbs, practicing language and even creating poems together.
It quickly became clear that the paintings should not be left behind just like that. Gudrun H. Hoelzer took the effort to layout a calendar, every month presenting one of the art works. A great conclusion of a colorful workshop which perfectly combined creative working and collaborative learning in a relaxed and joyful atmosphere!
October 13, 2018
Kocherquartier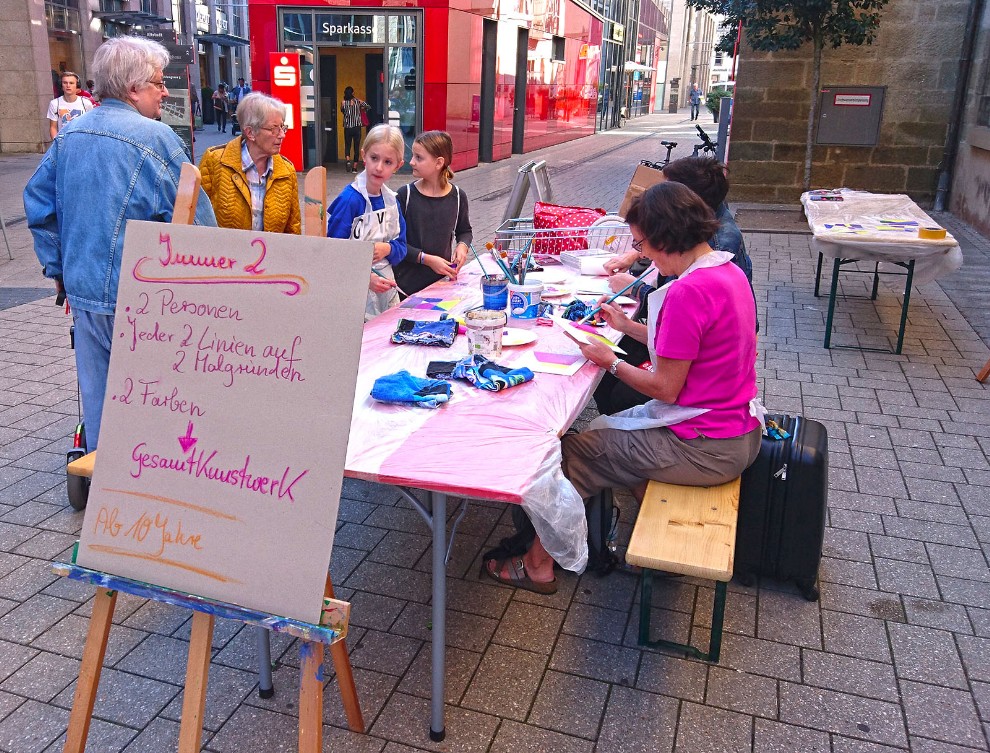 Immer 2 (Always 2)
The second "creative Saturday" in front of the Haus der Bildung was as beautiful as the first one. One week ago Katharina Schneider had taught how to craft friendship bracelets, now she had
built up a complete painters' studio in the middle of the street: Easels and tables for working and of course plenty of colors, canvases and brushes.
The concept of this workshop was quite simple: Always two people are sitting at the table facing each other and creating a painting with lines and shapes - thereby using only two colors. Small quadratic canvases were the right place for a short but intensive creative dialogue. Some painting partners had known each other before, some dared to come at the table for a "paint date" as total strangers. Fascinating, how manifold the results of this art performance were.
All paintings - over 30 in total - were mounted by Katharina Schneider on big panels. Hopefully a beautiful accent for the final event!
20.10.-10.11.2018
Kocherquartier, Haus der Bildung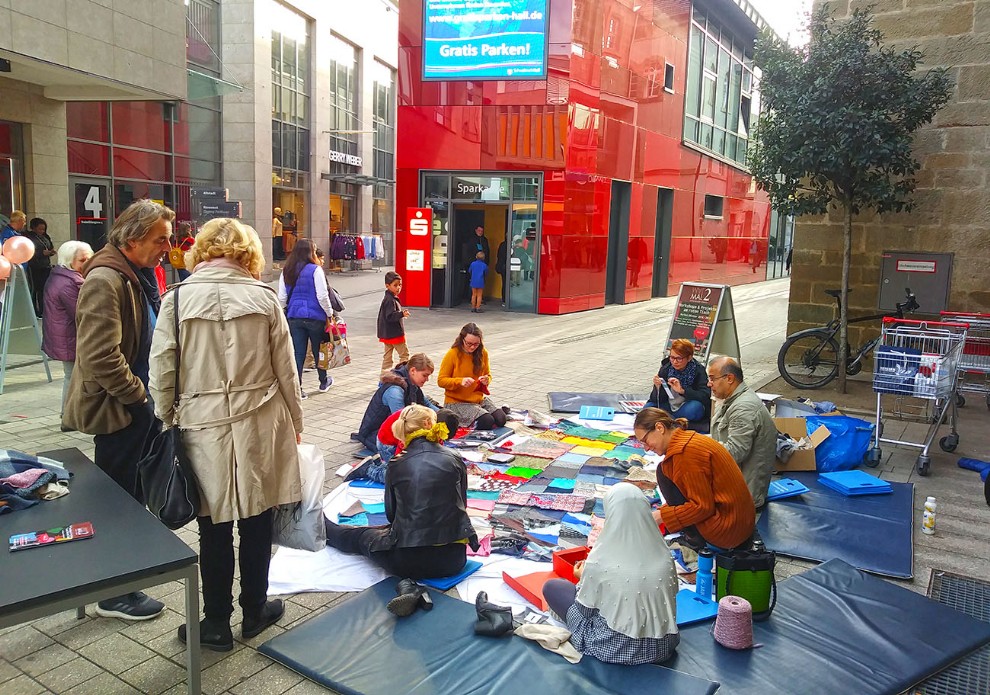 Verstrickt (Entangled) - The Textile Project
This workshop combined crafts, art and communication in an extraordinary way. The fashion designer Brigitte Katharina Maier wanted to create a space for experience, where the participants could get in contact by creating a big joint work. This is possible not only by means of brushes, paint and paper, but also by sitting down together, taking needle and thread and starting a patchwork.
By her profession Brigitte Katharina Maier has access to textiles in immeasurable variety. For this workshop she had compiled a huge amount of fabric and knitting patterns, small quadratic or rectangular patches in manifold colors and qualities. The practical aim of this workshop was the joint creation of a large textile piece by choosing pattern by pattern, considering together what matches best and which composition in color and form shall emerge.
It was essential for this workshop that it could take place outside. Except for one rainy Saturday, when the participants had to work inside the Haus der Bildung, on all other three dates soft mats and big cloths were spreaded in the pedestrian area of the Kocherquartier and the textile studio was built up amidst the people. This attracted of course many passers-by to drop in an collaborate.
The very special mood in this four times three hours was amazing: The work had a highly meditative quality and established a beautiful connection between the participants. The vivid play of colors in the patchwork became an image for the variety of people involved in creating it.
The patchwork is getting used as a prop in the theatre workshop "Der Geschmack von Sprache" ("The taste of language"). It will be interesting to see how it inspires this project!
October 21 and November 25, 2018
Accomodation for refugees Schmollerstraße
(a
nd September 23 in the Train station)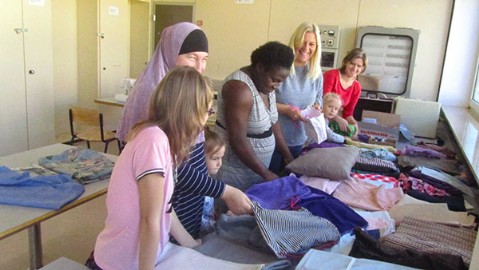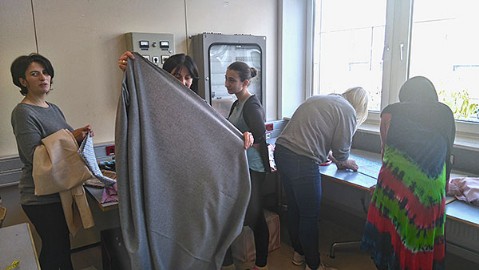 Sewing workshop
During the MAL2 Kick-off the sewing machines stood in the Schwäbisch Hall train station and got used largely by a lot of people. For the following two dates Cathrin Weiß and Meike Faisey moved with their equipment in the biggest accomodation for refugees in the city.
The sewing workshop is very practice-oriented - one of the reasons why it constantly attracts many people. T
he teachers have the necessary know-how, t
he big variety of textiles makes you want to try out and start creating. People of all ages came with a bunch of ideas and started projects like patching up their clothes or tailoring fancy cushion covers or bags.
The sewing workshop with Cathrin Weiss and Meike Faisey is existing for quite a while now. Being one of the classic outreach projects for refugees who have arrived here not long before, it was an essential offer within MAL2.
October 22 - November 18, 2018
Radio StHörfunk Schwäbisch Hall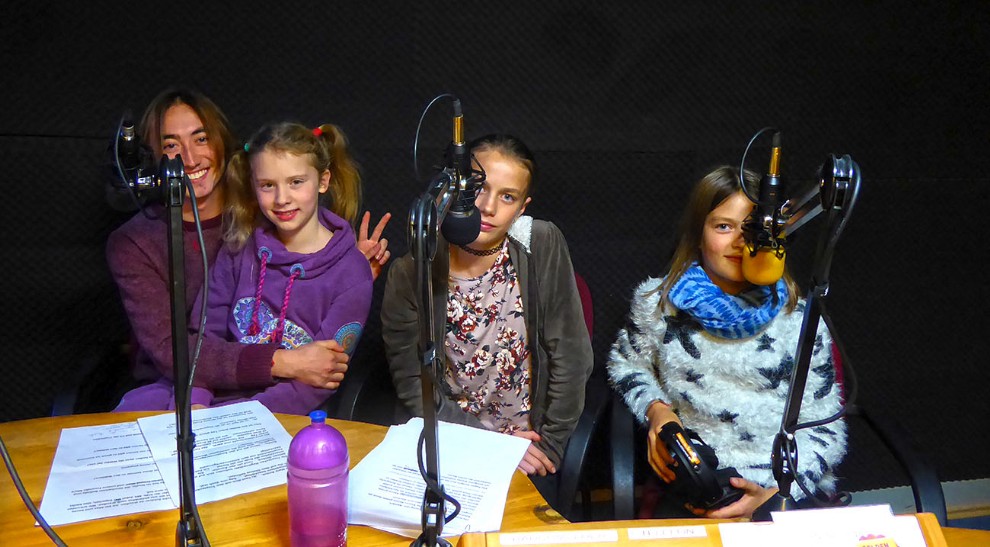 Live on air - Radio workshop
The radio workshop, where people without any previous experience were invited to produce their own one-hour broadcast, is an exciting enrichment in the program of MAL2. Five young people participated. During the first meeting in the studio of Radio StHörfunk a topic for the broadcast had to be found: Finally it turned out to be the forest and its global diversity.
Besides doing the research the participants had to gather music and audio material. U
nder the guidance of project supervisor Wolf Sternberg
they prepared i
n the next step
their material for an entertaining and informative broadcast and practiced how to speak into a microphone. Then they were finally ready to go: Live on air!
Radio StHörfunk is an independent non-commercial radio station broadcasting in Schwäbisch Hall and Crailsheim. It was initiated over twenty years ago within Club Alpha 60. Since then Radio StHörfunk pursues a very engaged program which is characterised by enormous variety and big socio-cultural commitment. Overcoming the separation into radio makers and radio consumers was always an important issue. Radio StHörfunk also actively includes refugees in its work.
October 24 and November 5, 2018
Schulzentrum West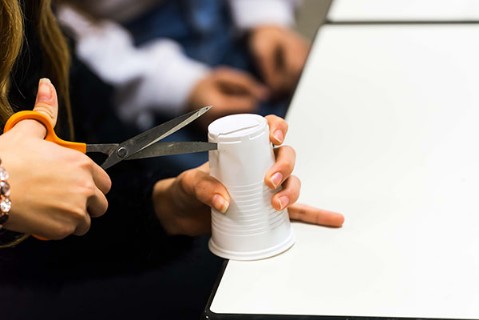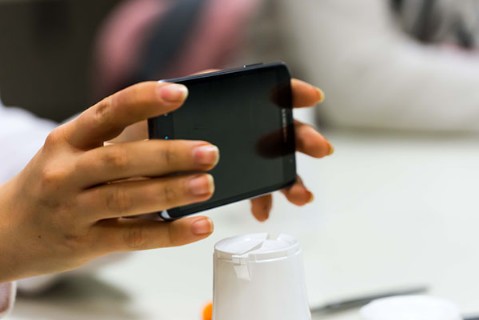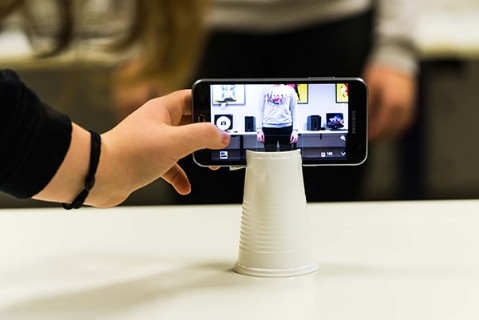 Painting with light
Magic cut
Beside the short workshops
open for everyone
right on the street as well as the longer workshops people have to register for, MAL2 is also offering projects for the schools in Schwäbisch Hall. Jürgen Vogel has visited a preparatory class (VKL) in the Schulzentrum West twice. Both of his projects wanted to explore what can be created using a camera. Thereby he combined creative teamwork training with media education.
Painting with light is simple and yet so astonishing: A camera mounted on a tripod with a long exposure time - and you are ready to draw and write with a small lamp into the air and on the photo. First the school class was considering if there are terms or words that all can agree on. Then they decided to write their names with much joy and energy.
Magic cut is a video technique experimenting with unusual cuts. Between two takes something surprising is happening. As it can be seen in the video that Jürgen Vogel has composed from the workshop material, the pupils had quite a lot of funny ideas.
In a third workshop the
preparatory class
shall try out Magic cuts together with
pupils from other classes.
October 27, 2018
Club Alpha 60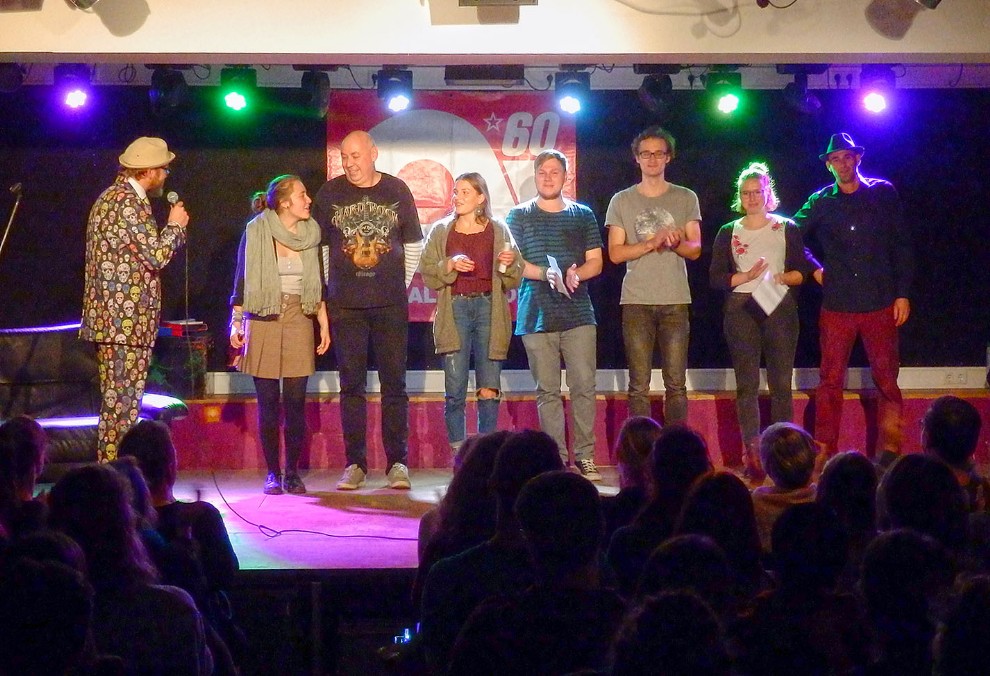 Poetry Slam
What an attractive possibility: Working with the host of the poetry slam, himself a renowned slammer, one whole day, and having the option to perform in the same evening. No wonder, that 13 participants were standing Saturday morning in front of Club Alpha and were looking forward to the workshop with the poet Michael Jakob.
After a creativity warm-up the adventure into poetry started. In the beginning stood the task of finding a theme, then followed the manifold possibilities of verbalization. Michael Jakob focussed his workshop concept on the interculturality of the participants by thematising the expressive power of language itself, thereby also mentioning its big manipulative potential. He taught the participants not only how to produce poetry slam texts, but showed them ways into writing in a very general sense.
But
of course
a poetry slam workshop has also to teach how to perform on stage, starting with the hard way to the microphone. Also here Michael Jakob tried to open up the perspective and gave a brief introduction into the basics of body language.
Considering such a rich workshop experience it only seemed logical that seven participants decided to slam in the evening in front of hundreds of people. An amazing achievement!
December 9, 2018
Haus der Bildung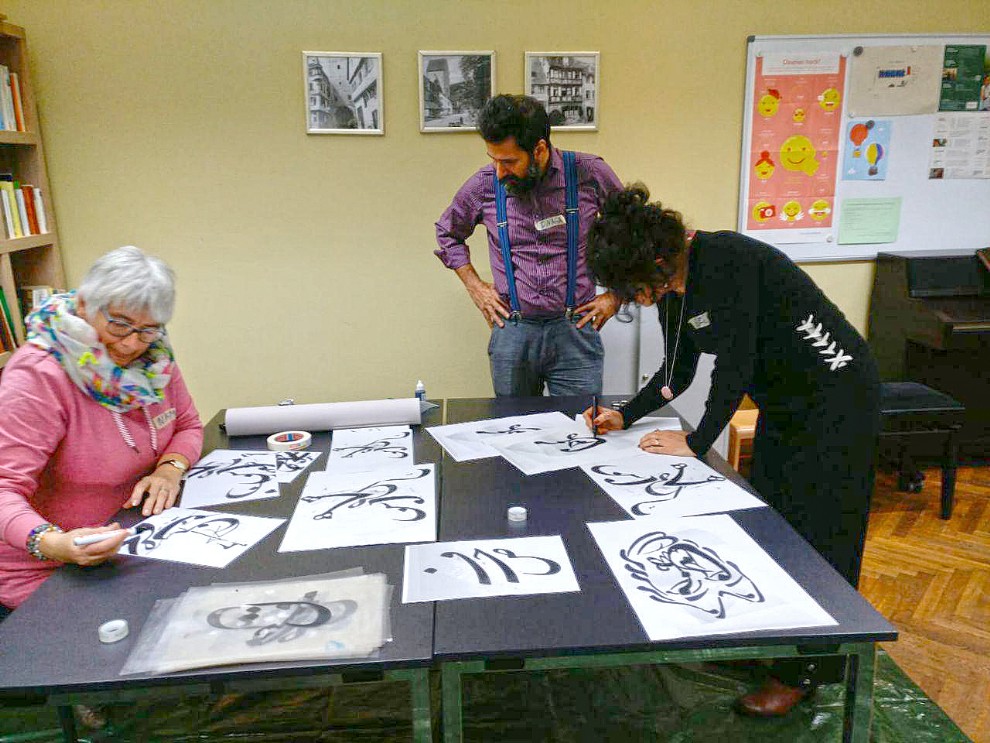 Alif - Concrete poetry
Concrete poetry? That means poetry that is always also dealing with language and script as sign systems with inherent values. Within the intercultural dialogue this is of course especially interesting, when not only different languages, but also different scriptures come together.
This was the point where the anthropologist and artist Iradj Esmaeilpour Ghouchani (born in Tehran) started his four-hour workshop for painting and writing. His idea: Poetry is waiting for getting discovered in a free and playful approach - and not necessarily for getting invented by a especially talented person. After fanciful warm-up games, he started his journey together with the participants: While writing and painting, letters transformed into faces, animals or houses and inspired to stories. Texts in various scriptures written on transparent paper revealed mysterious forms when they were placed on top of each other.
Towards the end of the workshop the participants combined all those discoveries in a large text painting.
Ghouchani is using his playful workshop concept for the prevention of extremism:
"Where the radical is looking for clarity, we are producing ambiguities. Where racism is drawing dividing lines, we are reacting by mixing what seems to be opposite. Where judgments are made, we leave the phenomenons unvalued and give them the freedom to speak for themselves."
December 14-16, 2018
Haus der Bildung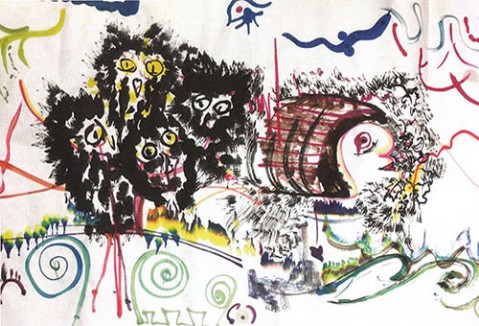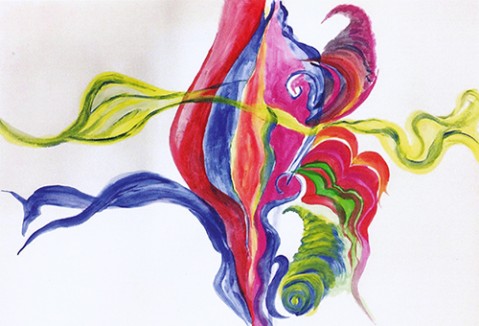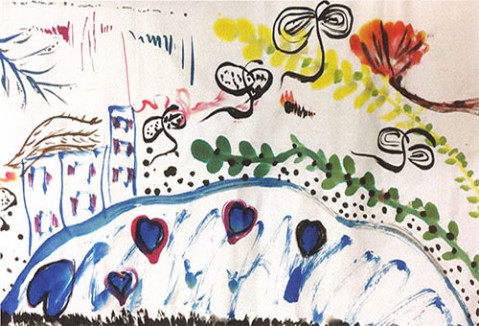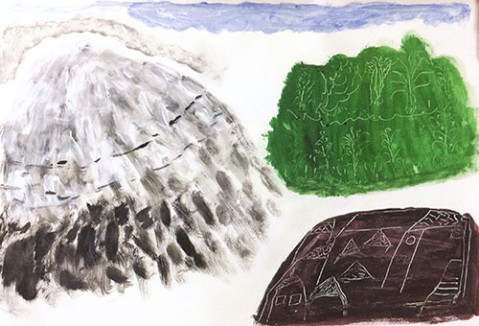 DialogArt
Sharpening the senses is a good start... First, the artist and teacher Sumiko Shoji asked the participants to blindfold themselves and then to react on various sensual stimulations by drawing with charcoal on paper.
The next day the participants sat down in front of long strips of china paper and painted with coloured ink while listening music. The last day Sumiko Shoji encouraged the participants to find painted expressions for personal stories and experiences. Thereby also the topic of refuge came up.
The participants wanted their works to be put together in an annual calendar, which is meanwhile completed and published.
Sumiko Shoji's workshop is an impressive example, how people of different origin and cultural formation can be creative together within a rich field of sensual experiences.
January 12 and 19, 2019
inatelier Schwäbisch Hall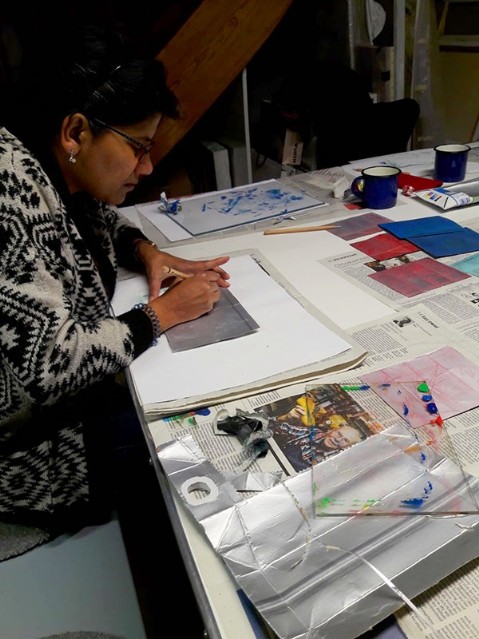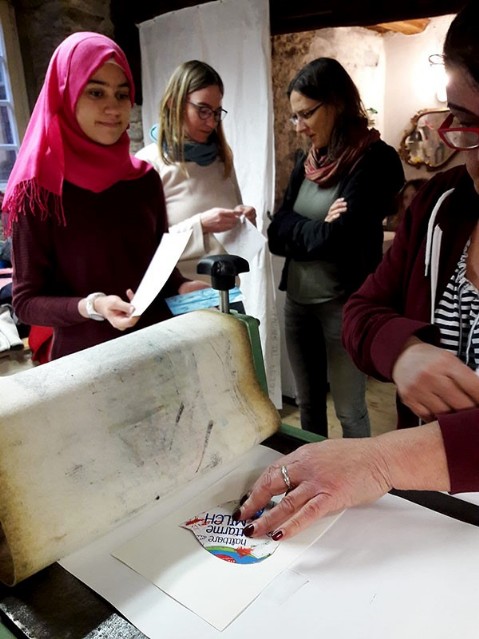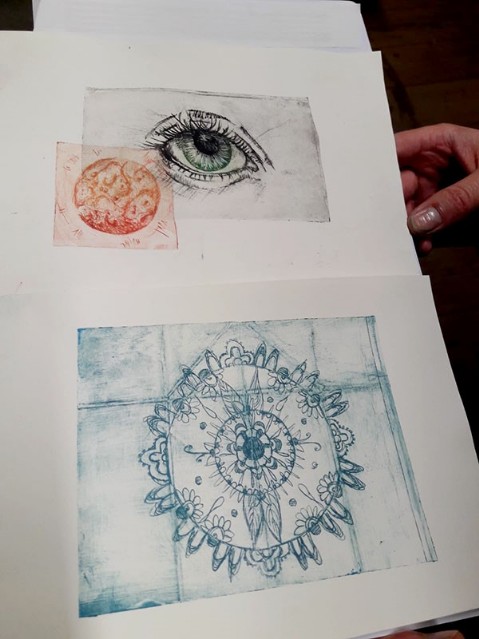 Printing workshop
Two Saturdays in a row Ilka Nowicki's printing studio with its gravure press was open for experimenting and creating. The first date was for women only, one week later followed another one for all. The first workshop was attended by eight women and girls, the second by 17 persons of all ages who joyfully got going.
The inner side of tetrapaks is perfect for making prints because it is quite easy to draw in its relatively soft surface. Ilka Nowicki was providing a big variety of printing colors and fine papers. The pariticipants were working highly motivated, curiously tried out and created wonderful prints.
In Ilka Nowicki's beautiful studio the participants got in touch easily. They exchanged their ideas and gave each other tips at the gravure press - simply all what being creative together is about.
February 2, 2019
Haus der Bildung
Creative writing
Concluding
the MAL2 winter program, another creative writing workshop took place in the Haus der Bildung.
Teacher Sudabeh Mohafez is an acclaimed author publishing her works in large publishing houses. Since many years she is also running creative writing workshops in various contexts.
The MAL2 writing workshop was of course focussing on collective creativity and intercultural dialogue. The 11 participants took off by using "buzz words" that had been collected at the beginning. They served as triggers for stories which the participants wrote first on their own and then together with others. Themes or special linguistic features of these stories become inspirations for new texts, and towards the end the participants even made it to creating simple short poems - in short, this workshop was all about creativity through encounter, play and exchange.
February 2, 2019
Haus der Bildung
"Der Geschmack von Sprache" ("The taste of language")
Theatre workshop
Six participants, together with theatre pedagogue and actor Andreas Entner explored the realm of language and communication. The workshop was about getting to know each other, understanding each other, giving each other an impression of one's own worlds and developing a small theatre play about it.
One participant shared his memory of the Afghan and Iranian tradition of Korsi, a table where people gather during the winter months for telling stories. Beneath this table they put a heating bowl in order to create a cosy atmosphere. During the workshop instead of such a brazier the large patchwork rug from the MAL2 workshop "Verstrickt" was used. Spreaded over the table it served as a warming blanket for the whole group. In the same time it turned out to be a fantastic source of inspiration.
During the workshop the participants developed a theatre play of about half an hour. One after the other they come to the "Korsi table" and start, not without small misunderstandings, their conversation. It is as if they were drawing their stories from the manifold patterns of the patchwork blanket. They tell about flight and distant homelands as well as about love and longing, with some funny moments and various jokes in various languages in between.
On march 23, the participants presented their play in the very heart of old Schwäbisch Hall - open air in the pedestrian zone.
In the same time Andreas Entner was working with pupils from the preparatory class (VABO) together with pupils from other classes in
the Commercial School in Schwäbisch Hall. They developed quite a different approach towards "Der Geschmack von Sprache" where the experience of indivual and group was in the focus and music played a central role.
Gemeinschaftsunterkunft Schmollerstraße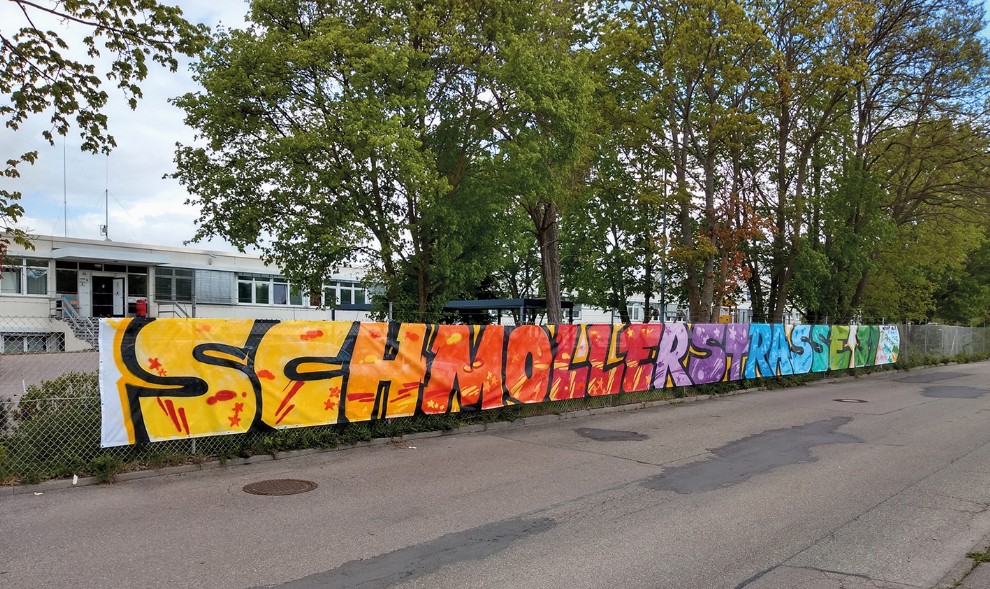 Graffiti workshop – Styles and Characters
During the project start in September, there was already an open graffiti and street art workshop in the train station. Now, towards the end of "MAL2" the spray cans got shaken another time. The idea was to visit the Gemeinschaftsunterkunft (accomodation for refugees) after the sewing workshops in October and November again, and to invite people have come to the city only recently.
On the first day the group met in the Club Alpha. Together with the Schwäbisch Hall based graffiti artists Frieder and Roland they started exploring the basics of letter design by means of the spray can.
On Sunday morning,
in front of the Gemeinschaftsunterkunft
a 30 m long, 1,5 m broad mesh was ready for getting tagged by the participants.
In no time, a word long enough for the banner was found: Plain and simple the address of the house.
Yesterday's participants were joined by some teenagers living in the accomodation. Together they painted classic graffiti block letters in all colors of the rainbow full of dynamic details. Finally the huge piece was attached on the fence in front of the building - a beautiful, widely visible sign in a quite dull neighborhood.
For the kids, yet too young for spraying, Jana-Ayla Breuninger ran a second workshop where they could create draw and paint however they wanted.