MAL2 is a creativity project with workshops free of charge for all people who want to be creative together: For refugees and residents, for people of all ages. Always in the center stands the red MAL2 table where all get together and start together.
With our table we are travelling across Schwäbisch Hall. At different locations we will run our workshops. Our program includes painting and many other artistic techniques, theatre and creative writing as well as dance, performance and poetry slam. In no workshop any special skills or experiences are required!
Everybody is invited to experiment, play and discover at ease. Our aim is to bring people together, to start intercultural dialogues and to initiate creative teams.
Some of the workshop teachers are freelance artists, others long-time teachers at the adult education centre (Volkshochschule) and other educational institutions. All of them are experienced in intercultural dialogues.
We are preparing special workshops for school classes, integration courses and other educational initiatives.
On Sunday, September 23, from 2 to 6 p.m. MAL2 will start with an exciting "creative afternoon" in the train station Schwäbisch Hall.
MAL2 is a project by Club Alpha 60 e.V., in cooperation with the Volkshochschule and the Mehrgenerationentreff Schwäbisch Hall. The project is conceived and organised by the Büro für Soziokultur, Schwäbisch Hall.
How can I participate?
The participation in the workshops is free of charge for everybody!
Some workshops require a simple registration by call, whatsapp or mail at the Büro für Soziokultur (address below). In workshops that are held over several days you should take part every day. If this is not possible for some reason - please let us know!
Important: Our teachers are no interpreters. So that all participants can work well together, basic knowledge of German is necessary. In some workshops English is also sufficient. Please ask us about that!
For all questions and for the registration please contact:
0171 4741862 (also WhatsApp)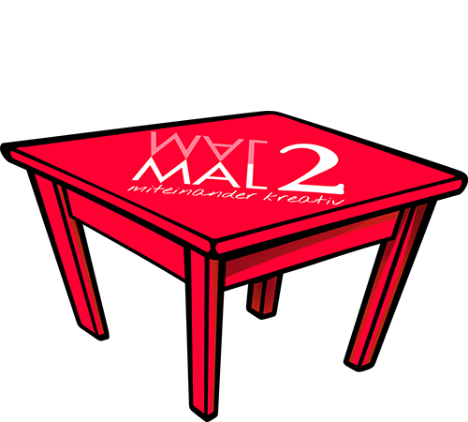 
Saturday and Sunday, April 27 - 28, 2019

Club Alpha 60, Spitalmühlenstraße 13/2

11
and Schmollerstraße 31

5